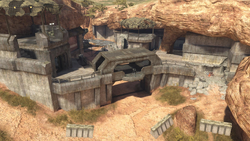 DotCom is a secluded Guardian compound located near a beach and plateau. According to Allan, the compound was discovered by the Guardians and turned into a base. DotCom's main purpose is to act as a communications base and vehicle garage for the Guardians. According to Mickey and Bartholomew, the base also contains a pipeline that is used as an escape route to an old purification facility. It serves as the main location in Season 3 and makes its first appearance in the episode The Gang's All Here.
Ad blocker interference detected!
Wikia is a free-to-use site that makes money from advertising. We have a modified experience for viewers using ad blockers

Wikia is not accessible if you've made further modifications. Remove the custom ad blocker rule(s) and the page will load as expected.