Genesis is the sixteenth episode of the third season of Sandguardians and the forty-eighth overall.
Coming soon...
Characters
Edit
Transcript
Edit
"Invariance" by Kevin MacLeod
"Zombie Chase" by Kevin MacLeod
"Ghostpocalypse 1 - Departure" by Kevin MacLeod
"Prelude and Action" by Kevin MacLeod
"Steel and Seething" by Kevin MacLeod
"Clean Soul" by Kevin MacLeod
"Reign Supreme" by Kevin MacLeod
"Stale Mate" by Jingle Punks
As displayed on the Project: Genesis file, Winters and Sydney's full names are Heinrich Winters and Archer Sydney.
Watch the Episode
Edit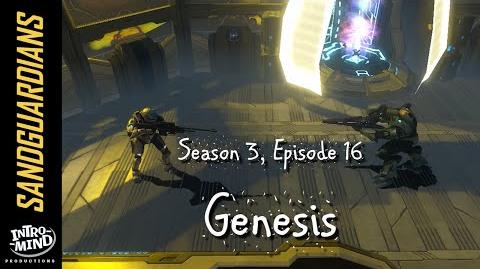 Ad blocker interference detected!
Wikia is a free-to-use site that makes money from advertising. We have a modified experience for viewers using ad blockers

Wikia is not accessible if you've made further modifications. Remove the custom ad blocker rule(s) and the page will load as expected.