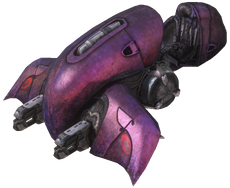 The Type-32 Rapid Assault Vehicle, or the Ghost, is a Covenant light armor ground vehicle featured in Sandguardians.
Role in Plot
Edit
The Ghost appears numerous times throughout the series, with its most notable appearance being Miller using it to kill the Guy in White in Ghosts That Linger.
The Ghost is the first vehicle that has been used to kill someone.
Ad blocker interference detected!
Wikia is a free-to-use site that makes money from advertising. We have a modified experience for viewers using ad blockers

Wikia is not accessible if you've made further modifications. Remove the custom ad blocker rule(s) and the page will load as expected.