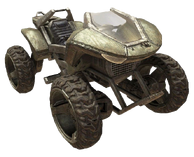 The M274 Ultra-Light All-Terrain Vehicle, or the Mongoose, is a light ground reconnaissance vehicle featured in Sandguardians.
Role in Plot
Edit
The Mongoose makes its first appearance in The Guy in White, where the Guy in White uses it to get to Sandtrap, as well as to leave. The Mongoose does not appear again until Truth of the Legend, when Nash and Dax use it as their transportation.
Ad blocker interference detected!
Wikia is a free-to-use site that makes money from advertising. We have a modified experience for viewers using ad blockers

Wikia is not accessible if you've made further modifications. Remove the custom ad blocker rule(s) and the page will load as expected.