Sandguardians Episode
"Roses Are Red, Violets Are Blue"
Episode no.
Special
Airdate
September 30, 2011
Running time
5:47

Sandguardians Season 1
November 27, 2011 - April 21, 2012
Roses Are Red, Violets Are Blue is a special episode of Sandguardians and the third installment of the Sandguardians: Rooster Teeth Special.
Dax and Ichabod continue their tour of the filming locations of Red vs. Blue.
Characters
Edit
Blue Team
Edit
This episode's title is a reference to the Trocadero album of the same name.
The beginning of the episode is a direct reference to Red vs. Blue: Reconstruction.
Icky references a quote by Church from Episode 10 of Red vs. Blue.
The A.I. gag from Red vs. Blue is once again used in this episode.
Ichabod does not seem to know about the Halo franchise.
Dax incorrectly states that Grif crashed through the Valhalla wall during Chapter 4 of Red vs. Blue: Revealtion. In realtiy, Grif performed this action in Revelation Chapter 3, not 4.
Ichabod references the "Doesn't seem physically possible" gag from Red vs. Blue.
Watch the Episode
Edit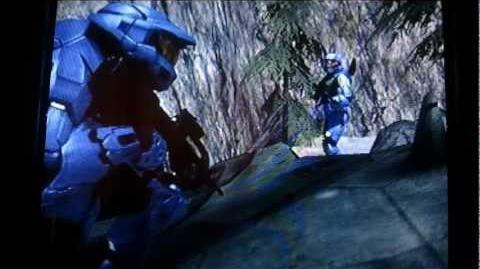 Ad blocker interference detected!
Wikia is a free-to-use site that makes money from advertising. We have a modified experience for viewers using ad blockers

Wikia is not accessible if you've made further modifications. Remove the custom ad blocker rule(s) and the page will load as expected.