Sandguardians Episode
"The Guy in White"
Episode no.
11
Airdate
August 12, 2011 (Original)
February 25, 2012 (Remastered)
Running time
4:33

Sandguardians Season 1
November 27, 2011 - April 21, 2012

The Guy in White
The Guy in White is the eleventh episode of the machinima Sandguardians.
In Sandtrap, a white soldier is seen riding up a temple on a mongoose. He hops off and begins to scope out the area with his sniper, until another soldier sprints towards him with a magnum in hand. The desert soldier tells the white soldier to stand down and asks him if he works for the ONC, in which the white soldier replies saying 'no'. The desert soldier tells him that the area is restricted and that he must leave. The white soldier agrees and points out the destroyed Phantom. The desert soldier nearly explains its reason but quickly aims for the white soldier and gets ready to kill him. The white soldier, however, pulls out an energy sword and uses it to kill the desert soldier. He then leaves towards the Phantom.
At the Phantom, the white soldier looks around and takes pictures with his visor. He hops back on his mongoose and leaves the desert. Unbeknowest to him, another soldier, with a lavender color and rubine trim, emerges from a nearby cave and spies on his departure. She then heads towards the Phantom.
Characters
Edit
Differences between Original version and Remastered versionEdit
| Original | Remastered |
| --- | --- |
| Running Time: 3:49 | Running Time: 4:33 |
| Contains music: (When) Your Middle Name Is Danger | Contains music: Interloper |
| Original dialogue/footage | New/added dialogue/footage |
External Links
Edit
Watch the Episode
Edit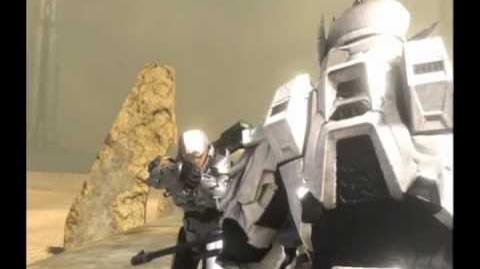 Ad blocker interference detected!
Wikia is a free-to-use site that makes money from advertising. We have a modified experience for viewers using ad blockers

Wikia is not accessible if you've made further modifications. Remove the custom ad blocker rule(s) and the page will load as expected.